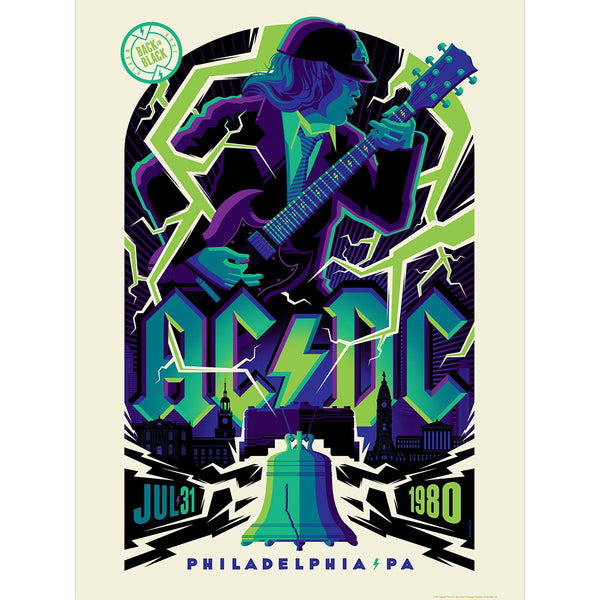 AC/DC July 31, 1980 Philadelphia, PA Poster Midnight Variant
LIMIT 1 POSTER PER DESIGN, PER PERSON, PER HOUSEHOLD, ETC.
DETAILS:
Artist Tom Whalen's homage to AC/DC on their Back in Black tour in 1980!
"The brand new "Back in Black" cassette tape that i packed for our family trip to Orlando became the soundtrack of my summer of '91. I played it over and over and over and couldn't wait to get back home so that I could explore the rest of AC/DC's catalog. I've been hooked ever since. I'm beyond grateful to being asked by ECHO to produce a poster honoring AC/DC, a band that has been a part of my life for so long." – Tom Whalen
PRODUCT INFORMATION

Title: AC/DC July 31, 1980 Philadelphia, PA Midnight Variant
Artist: Ton Whalen
Medium: Silk Screen Print
Edition: 75
Authenticity: Hand Numbered 
Size: 18" x 24"  / 45.72cm x 60.96cm
Material: Cougar White
 
PLEASE NOTE:  Adding this item to your cart does not guarantee purchase.  You must fully complete the checkout process to consider the item yours.  All sales are final.