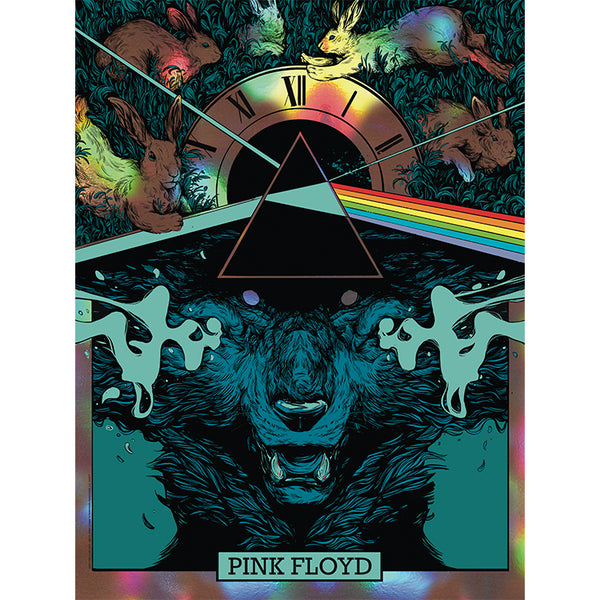 Pink Floyd Midnight Rainbow Foil Variant Poster
LIMIT 1 POSTER PER DESIGN, PER PERSON, PER HOUSEHOLD, ETC.
DETAILS:
Artist WolfSkullJack's homage to Pink Floyd's Time and Breathe from The Dark Side of the Moon.
"My father introduced me to Pink Floyd when I was but a wee pup and The Dark Side of the Moon was a regular on the record player. I am eternally thankful to have inherited his excellent music taste!
When working for musicians I love to put on their music as I sketch and ink in an attempt to capture the bands essence and I think that shines through here. The art is heavily influenced by Time and Breathe, two of my favorites, with reference to the lyrics, 'Run, rabbit run' in Breathe. Wolves in my work are often ethereal/celestial creatures who represent time and space. The wolf is representative as part of the natural life cycle of the rabbit in an all natural way rather than something sinister." – WolfSkullJack
PRODUCT INFORMATION

Title: Pink Floyd Midnight Rainbow Foil Variant
Artist: WolfSkullJack
Medium: Silk Screen Print
Edition: 75
Authenticity: Hand Numbered 
Size: 18" x 24"  / 45.72cm x 60.96cm
Material: Rainbow Foil